Regular price
Rs. 1,499.00
Sale price
Rs. 799.00
Unit price
per
Sale
Sold out
Get 20% Extra Off
On All Prepaid Orders

About this item
Care Instructions: Hand Wash Only

AUTO-OPEN REVERSE OUTDOOR UMBRELLA: Our design is the unique Auto-Open frame, unlike many other Manual reverse umbrellas. Just press a button, and watch the umbrella spring open. No more manual handling and getting wet when entering or exiting your vehicle! Best as a gift! 🎁

WIND RESISTANT, DURABLE, UV, AND RAIN PROTECTIVE CLOTH: Forget about cheaply made strollers and car umbrellas once and for all! This auto-open reverse umbrella is made of heavy-duty, thick, windproof, rain and sun-protective cloth, keeping you safe and comfortable at all times.

STAY DRY AND KEEP YOUR FLOORS AND CARS SAFE FROM WATER DRIPPING: No more wet clothes and floors for you! This must-have wind-resistant, folding reverse umbrella is exactly what you need to keep rainwater from dripping in your car and all over your floors. What is more, the smooth opening and closing mechanism allows you to enter or exit your car without the hassle.
Reversible / Inverted Self-standing Double Layer C HANDLE Umbrella Umbrella Open & Close in a Reversible Way Unlike common umbrellas, it opens and closes in a reverse way, fully protecting you from the rain when you enter or exit a car or a building.

Once closed and strapped up, this umbrella contains the water inside the folded canopy, keeping your

 

car or floor dry

.

C-shape Hand Grip The C-shape handle can free your hands for your cell phone, or even for your baby.

All you need to do is stick your wrist or forearm through the handle. Stylish Self-Standing Once closed, it can self-stand on the ground, with a fashionable and eye-catching pattern on the inner layer.

Hanging on a door handle is also an option when closed and strapped up.

Dual Layers of 210T Pongee Fabric On sunny days, dual layers keep UV rays and heat away. On rainy days, water won't stay on the water-repellent coating on the outer layer.

Hair won't get tangled any more thanks to the dual layers concealing the ribs. Dedicated Craftsmanship 8 fiberglass ribs and alloyed frame also demonstrate the windproof ability.

New technologies are used to improve the reversible mechanism, ensuring that each umbrella opens and closes smoothly in a more durable way.
HAND FREE GRIP
Unique C-type rubberized handle to keep your hands free to do other important things

Inverted Design Prevents Water From Dripping, Keeps the Floor And Cars Dry

Ergonomic handle with PU coating maximizes comfort and grip security. Easy to open with an automatic opening mechanism ensures that there will be no delay to your comfort.

Simply press the button on the handle to open it.
FEATURE
Double protection: the double-layer inverted umbrella has a double effect in blocking sun rays, giving you double protection against sun, wind, and rain.

The double-layer inverted umbrella is made of pongee cloth, and durable black electric ribs and double-layer ribs make the umbrella more sturdy, enhancing its windproof effect.

The unique design of the double inverted umbrella, inside-out design prevents water from dripping, keeping floors and cars dry.

With a simple click of the embedded button, you can open and close the umbrella in confined spaces when entering or exiting a building or car and it's less awkward and more safer to open and close when in crowds since the danger to poke in people's eyes has been removed by the design.
FAST & FREE SHIPPING
Shipping takes 3-7 business days within India.
Pay cash when receiving the item.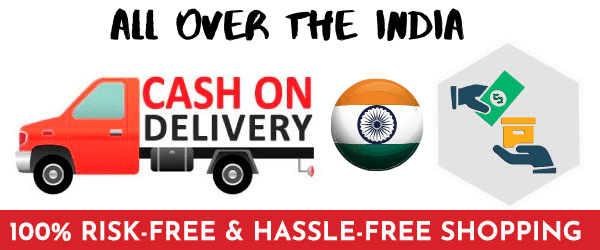 Shipping & Returns

Processing times range from 1-2 business days. Delivery time ranges from 5-7 days for orders in India
Share
View full details