Regular price
Rs. 1,299.00
Sale price
Rs. 499.00
Unit price
per
Sale
Sold out

Cervical Spine Support Pain Relief
Materiaal: ABS plastic
Back Stretcher for Pain Relief
Back Stretcher is a back pain relief product.
Back support helps people suffering from chronic back pain to reduce fatigue, stress, and tiredness during office hours, long walks, sedentary fatigue, and gardening. When lying down on lumbar support, gravity allows the front of your body to effortlessly stretch, and the surrounding muscles start to relax, gently decompressing the discs in your vertebrae, realigning the spine, and relieving tension and pain.
It's convenient, effective, and safe, and we are committed to your healthy life.
Easily and Effectively Spinal Decompression
The lower back massager has 88 massage points, which can be used to achieve a full range of massage by pressing specific points deeply. Help to back pain relief, corrects posture imbalance, loosens up the tension generated within muscle fibers, relieves pressure, and elongates your spine.
Whether you are at home, in an office chair, in a car, On the Sofa, or anywhere, you can use our back stretcher.
You just need to lie down slowly to enjoy 5-15 minutes of massage and stretching every day-easily and effectively relieve pain.
Level 1 – Less Intensity.

 

Start pulling for a moderate stretch for the first-time user. Initial users are recommended to start from Level 1.

Level 2 – Moderate Intensity.

 

Moderate intensity gives the waist suitable lower-back support.

Level 3 – Strong Intensity.

 

Greater stretch for advanced users will provide excellent lumbar stretching.

Tips: Don't be too quick to try high level before you advance to them.
| | | |
| --- | --- | --- |
| | | |
| 1. Lay it flat on the floor or a secured mat. Sit with your back to the back stretcher with the wide end close to your back. | 2. Lie your back slowly onto the back stretcher with your elbow supported and knees bent. | 3. Adjust a stretch position, relax as much as possible and breathes normally. Keep your knees bent and rest your arms on your side. |
FAST & FREE SHIPPING
Shipping takes 3-7 business days within India.
Pay cash when receiving the item.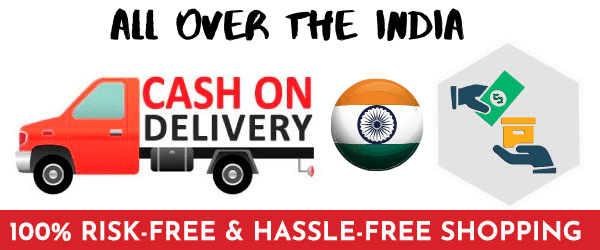 Shipping & Returns

Processing times range from 1-2 business days. Delivery time ranges from 5-7 days for orders in India
Share
View full details